Back to all posts
End of an Era: Basrah Light Exports Cease
Read in 4 minutes
A new year and a new change to the Basrah oil complex: The Iraqi State Organisation for the Marketing of Oil, SOMO, has announced to its term customers that it will not provide them with Basrah Light barrels from January 2022 onwards, with the Minister explaining that the barrels will go to the domestic market instead.
SOMO had previously reshuffled its offerings with the introduction of a new grade, Basrah Medium, from January 2021. SOMO wanted to remedy issues around high variations in quality for the then Basrah Light grade.
The decision to stop exports of Basrah Light comes as a surprise and customers will once again wonder how the change will affect quality, this time of Basrah Medium barrels. As predicted in our blog dated 5 January 2021, entitled Basrah Medium – A Strong Contender for the Chinese Market, Basrah Medium has now become the largest exported grade from Iraq.
Prior to the introduction of Basrah Medium, Basrah Light had averaged about 2.1 mb/d in 2020. In 2021, Basrah Light averaged close to 900 kb/d, with Basrah Medium taking the top position at almost 1.1 mb/d. Adding Basrah Heavy, total Basrah loadings for 2021 totalled close to 3 mb/d, on par with 2020.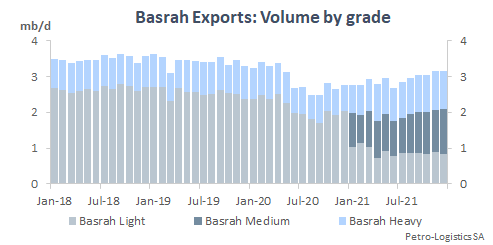 When SOMO introduced Basrah Medium at the end of 2020, it announced new API and sulphur standards for all the Basrah grades, with Basrah Light at 31.4 degrees and 2.74% sulphur (versus 34 degrees and 2.93% in 2015), Basrah Medium at 27.9 degrees and 3% sulphur content and Basrah Heavy at 24 degrees and 4.05% sulphur content (versus 3.83% in 2015).
Over the past decade, Basrah Light has been plagued by quality issues, with the API of cargoes shipped to customers often several degrees off from the defined standards, due to production from new fields of different quality crudes. With the introduction of Basrah Medium, SOMO hoped to redefine its grades to be more in line with the actual qualities of the crudes produced.
In 2021, Basrah Light and Basrah Medium fell within their newly defined quality specifications. Basrah Light cargoes averaged 29.4 degrees in 2020, while the 2021 average API was 31.3 degrees. Meanwhile, Basrah Medium cargoes had an average API of 27.9 for the same period, in line with the announced characteristics.
Looking at the variation in quality, Basrah Light experienced poor consistency in 2020, with a standard deviation of 1.41. With the creation of Basrah Medium, Basrah Light became more stable in 2021, with a standard deviation of 0.606. Basrah Medium also experienced fairly stable quality in 2021 with a standard deviation of only 0.51.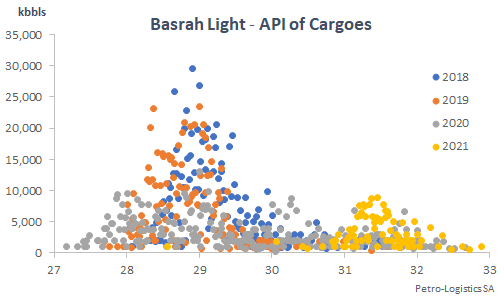 Following the announcement that Basrah Light will no longer be offered for export starting in 2022, what will happen to Basrah Medium? The argument given by SOMO and the Iraqi government for the withdrawal of Basrah Light was that the historic grade would be kept for domestic refineries instead.
However, domestic refineries are already supplied by other crudes and the only new capacity in 2022 is the 140 kb/d Karbala refinery which is not slated to come online until later in the year. Compared to the average 900 kb/d of Basrah Light exported in 2021, new refinery capacity does not justify keeping the total volume of Basrah Light for domestic use.
It is thus Petro-Logistics' understanding that SOMO will migrate further barrels from the Basrah Light pool to Basrah Medium. As seen above, in 2021, SOMO was able to deliver perfectly on the announced characteristics. A transfer of barrels from the light to the medium grade pool could have a significant impact on the quality of Basrah Medium and raise customers' concerns about instability of southern Iraqi grades.
Looking at Basrah Light and Basrah Medium jointly, the average API for both grades in 2021 has not varied much compared to 2020 Basrah Light cargoes. If even a portion of Basrah Light is allocated to the Basrah Medium pool, Basrah Medium would diverge from the new standards and essentially lift Basrah Medium back towards the characteristics of Basrah Light in 2020.
Unless Iraq manages to significantly increase its domestic refinery intake (unlikely in the near term due to aging infrastructure and technical problems causing poor utilisation rates), the decision to stop exporting Basrah Light will push some lighter barrels into Basrah Medium, making the new grade lighter.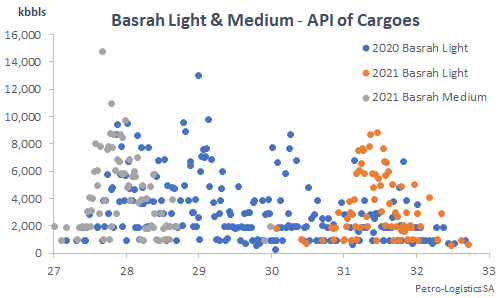 The only other mitigation might come from an increase in production volumes, with fields producing heavier crudes increasing production as the OPEC+ curtailment is lifted.
Petro-Logistics will continue to monitor the quality, volume and destinations of Basrah Medium as more cargoes are exported in 2022 in lieu of Basrah Light.