back to all posts
Basrah Medium: A Strong Contender for the Chinese Market
Read in 4 minutes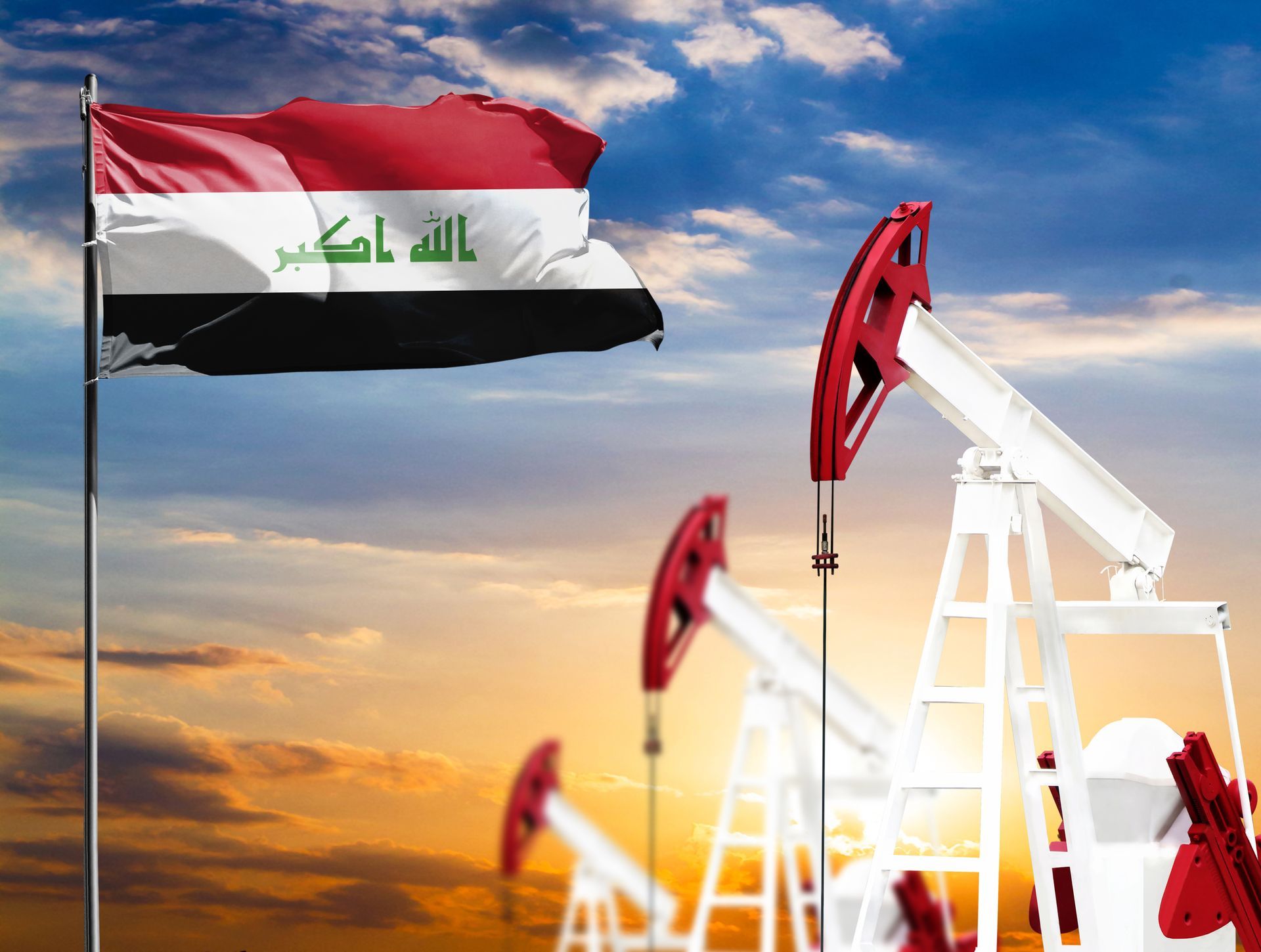 After years of issues around the high variation in quality for Basrah Light, SOMO has created a new grade, Basrah Medium. Based on Petro-Logistics' analysis of the past three years' Basrah Light cargoes, the new Basrah Medium grade, introduced in January 2021, could become the largest exported grade out of Iraq, displacing Basrah Light, which will become a more marginal grade alongside Basrah Heavy in terms of volume.
Most Basrah Light Barrels Fall Within the Spectrum of Basrah Medium
Traditionally in Iraq, southern fields have exported their crude as Basrah Light. With new fields coming on stream in the last 10 years, Basrah became heavier, hence the introduction in 2015 of Basrah Heavy. The grade also catered to a growing number of new complex refineries built in Asia at a time when supply of heavy crudes was becoming more limited.
However, this has not solved the issue of quality predictability needed by refiners to run the grade, especially for less complex plants. Indeed, based on Petro-Logistics' tracking, the quality of Basrah Light cargoes since 2018 has varied significantly, with a weighted average API of 29.08 but a fairly wide standard deviation of 1.27.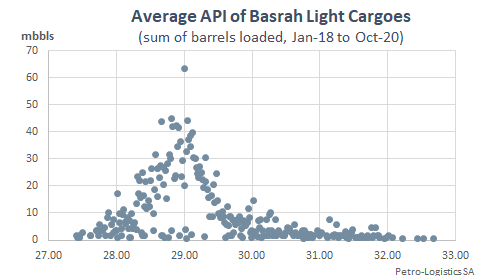 To remedy the issue around inconsistent quality, and with new fields expected to come online in the near future creating further uncertainties around the quality of Basrah Light, a new grade has been defined by SOMO: Basrah Medium.
Based on an analysis of all the Basrah Light cargoes, about 89% of the barrels had an API between 27° and 30°, with at least 44% between 27° and 28.9°. With Basrah Medium set at 27.9° and Basrah Light at 31.4°, if SOMO were to take barrels between 27° and 29.5° for instance as Basrah Medium barrels, it would represent over 80% of the barrels loaded in the last three years.
However, it will depend on how SOMO segregates between the different producing fields and where it puts the limit on API for both Basrah Light and Basrah Medium if barrels have an API between 27.9° and 31.4°.
Basrah Light Increasingly Landing in China
Basrah Light is a long running grade, which used to be widely bought across the world. However, in recent years the overly dominant market has become Asia. Since 2018, Asian refiners have increased their market share of Basrah Light at the expense of Europe and North America. Amongst Asian nations, China has established itself as the top buyer of Basrah Light.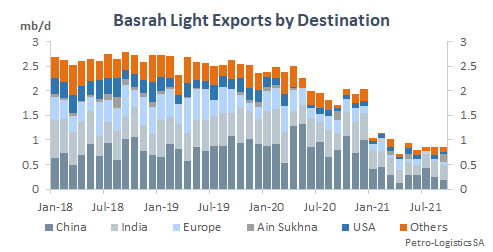 Basrah Medium to Compete with Grades Overwhelmingly Taken by China
With Basrah Medium defined as a grade with an API of 27.9° and a sulphur content of 3%, the introduction of such a grade will create competition for existing grades that are of similar quality, especially in Asia. Basrah Medium is similar in quality to Al Shaheen, Arab Heavy and Khafji.
Al Shaheen, a Qatari crude with an API of 29.5° and a sulphur content of 2.31%, is predominantly sold into Asia, with Japan, Singapore and India amongst the top buyers in recent years. However, in 2020, China progressively stepped in to become the biggest buyer in the second half of the year.
Arab Heavy is another crude that can be compared to Basrah Medium. The Saudi grade has an API of 27.6 and a sulphur content of 2.94%. The crude, with exports between 500 kb/d and 1 mb/d, often lands in China but has a variety of destinations in both the Atlantic and Pacific basins.
The third comparable crude in our analysis is Khafji from the Neutral Zone. Its API is 28.5° so very close to Basrah Medium and marginally sweeter with a sulphur content of 2.85%. The field resumed production only earlier this year. Back when it was last in operation, India was the key destination but since the restart in 2020, China with Unipec in particular has stepped in to buy most of the exported volumes.
Conclusion
As Iraq increasingly relies on Chinese buyers for its Basrah Light sales, the introduction of Basrah Medium will likely only reinforce this dependence with the new grade similar to grades regularly imported into China. Basrah barrels of the three types will continue to make their way to other markets, but the dominance of China for Iraqi exports looks here to stay.
It will also be interesting to see how aggressively Iraq markets this new grade as it comes into direct competition with neighbouring crudes. When it introduced Basrah Heavy back in 2015, SOMO sold it at very cheap official selling prices to establish the grade, which became a firm favourite in the market, with the limited volume often being sold at premium over its OSPs.