Back to all posts
Weaker Chinese Imports in Q2 2021
Read in 3 minutes
Whilst the first quarter of 2021 saw strong Chinese crude imports, the second quarter was marked by a significant reduction for the countries covered by Petro-Logistics' tracking. The average of the second quarter stood at around 6.557 mb/d, versus Q1'21 at 7.634 mb/d and Q2'20 at 7.743 mb/d.
The fall in imports was from all regions but proportionally more from the FSU and the Americas. For Middle Eastern barrels, the picture is mixed with some countries seeing a surge quarter-on-quarter, in particular Iran, which benefited from strong Chinese demand in the first half of the year.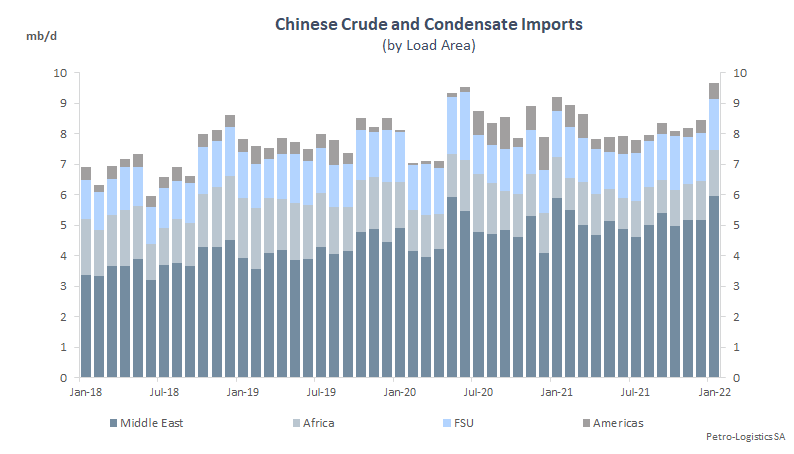 Overall, Chinese refinery runs have been strong in Q2'21, according to the National Bureau of Statistics, although independent refiners seemed to have cut their runs in May, according to some data points. The reduction in imports implies that Chinese refiners may have been using the large volume of crude stocks accumulated over the last 12 months.
Imports from the Middle East fell by 12% between the first and the second quarter, to 4.350 mb/d. However, whilst a drop from high levels was seen for Iraq, Saudi Arabia and the UAE, a larger volume of Iranian crude landed directly in Q2'21 than in Q1'21 following a flurry of buying by Chinese refiners in the first few months of the year (in addition, a significant volume of Iranian crude is estimated to have gone into China following transshipments offshore Singapore). Kuwait was the only other country in the group that saw a quarter-on-quarter increase.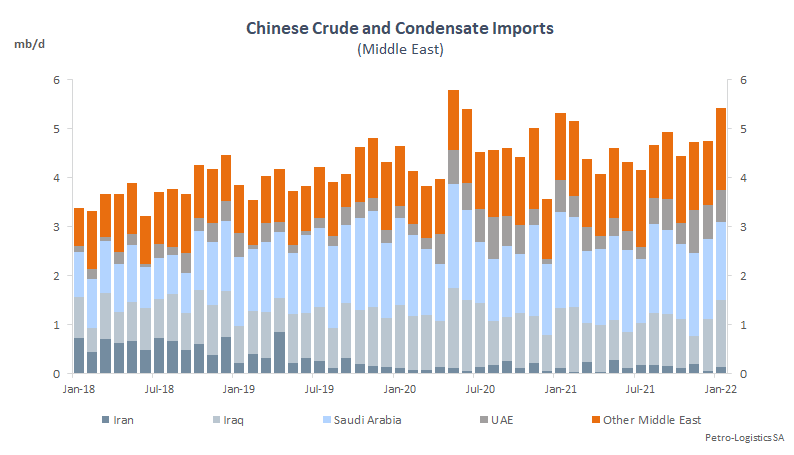 FSU seaborne exports to China also fell in the second quarter of 2021, at 569 kb/d (-187 kb/d q/q and -342 kb/d vs Q2'20). Most Russian seaborne barrels imported into China were ESPO. Only one cargo of Urals arrived in China during the quarter, no barrels came from Azerbaijan, and just a few CPC cargoes landed.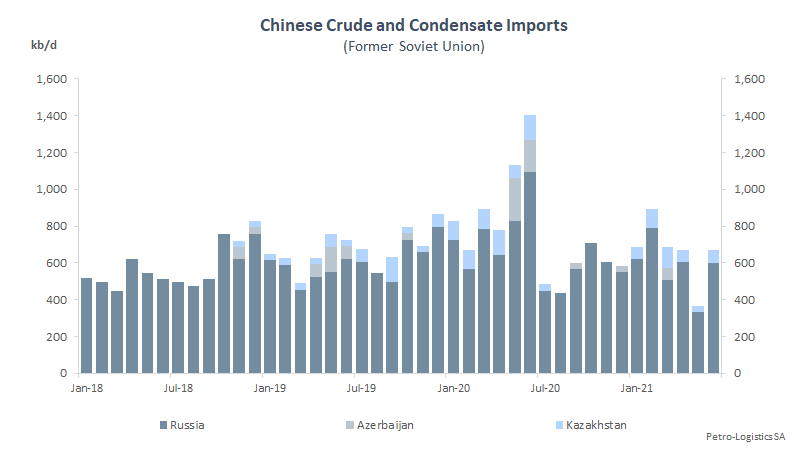 Following the trend that started in Q1'21, Chinese imports of US Gulf Coast crude continued to taper off, dropping by 205 kb/d quarter-on-quarter to 448 kb/d, though this was still above Q2'20 by 276 kb/d. Arrivals of US Gulf Coast barrels have fallen from a high of 889 kb/d in December 2020 to 212 kb/d in June 2021. May reached an 11-month low at 158 kb/d. Last year's pressure to buy US barrels to abide by the US-China trade agreement seems to have disappeared as a new US administration came into power.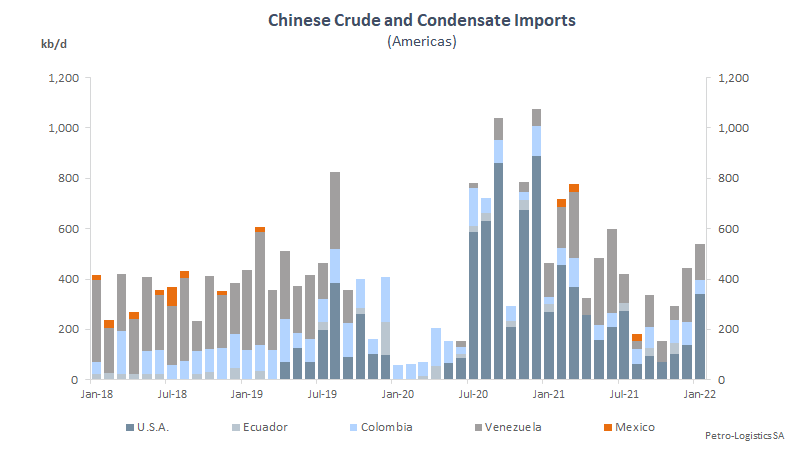 Elsewhere in the Americas, the volume of Venezuelan crude being shipped directly into China rose to 200 kb/d in Q2'21. A change of rules, which will increase taxes on heavy bitumen-like grades from Venezuela, started to be applied from mid-June onwards. This caused a surge of buying for March and April loaders, with the cargoes arriving in May and June. In both May and June, direct Chinese imports of Venezuelan barrels rose to around 267 kb/d.
Imports from African countries were fairly stable in the second quarter of 2021, at an average of 1.190 mb/d. A drop in Congolese, Equatorial Guinean and some other African countries' arrivals were mostly offset by a rise in imports from Angola, Libya and Sudan & South Sudan.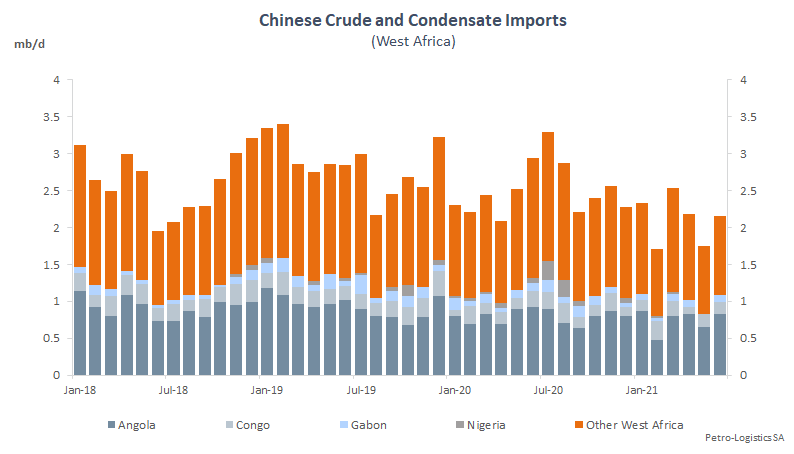 Congestion at Chinese ports was a significant issue in 2020. In 2021, floating storage is much lower than in 2020 but has remained regularly at or above 20 mbbls. However, by mid-July, barrels waiting offshore China had fallen to 8.8 mbbls, mostly from Colombia and the UAE.
Looking ahead, lower government quotas plus restrictions affecting the purchase of certain barrels will reduce crude imports for independent refiners. The current high price environment is a further deterrent for buying and stocking crudes for Chinese refiners despite indications of recent stock draws. Amongst crude producing countries, East of Suez barrels would be favoured due to the large Brent-Dubai spread.