back to all posts
Strong Start to 2021 for Chinese Imports
Read in 4 minutes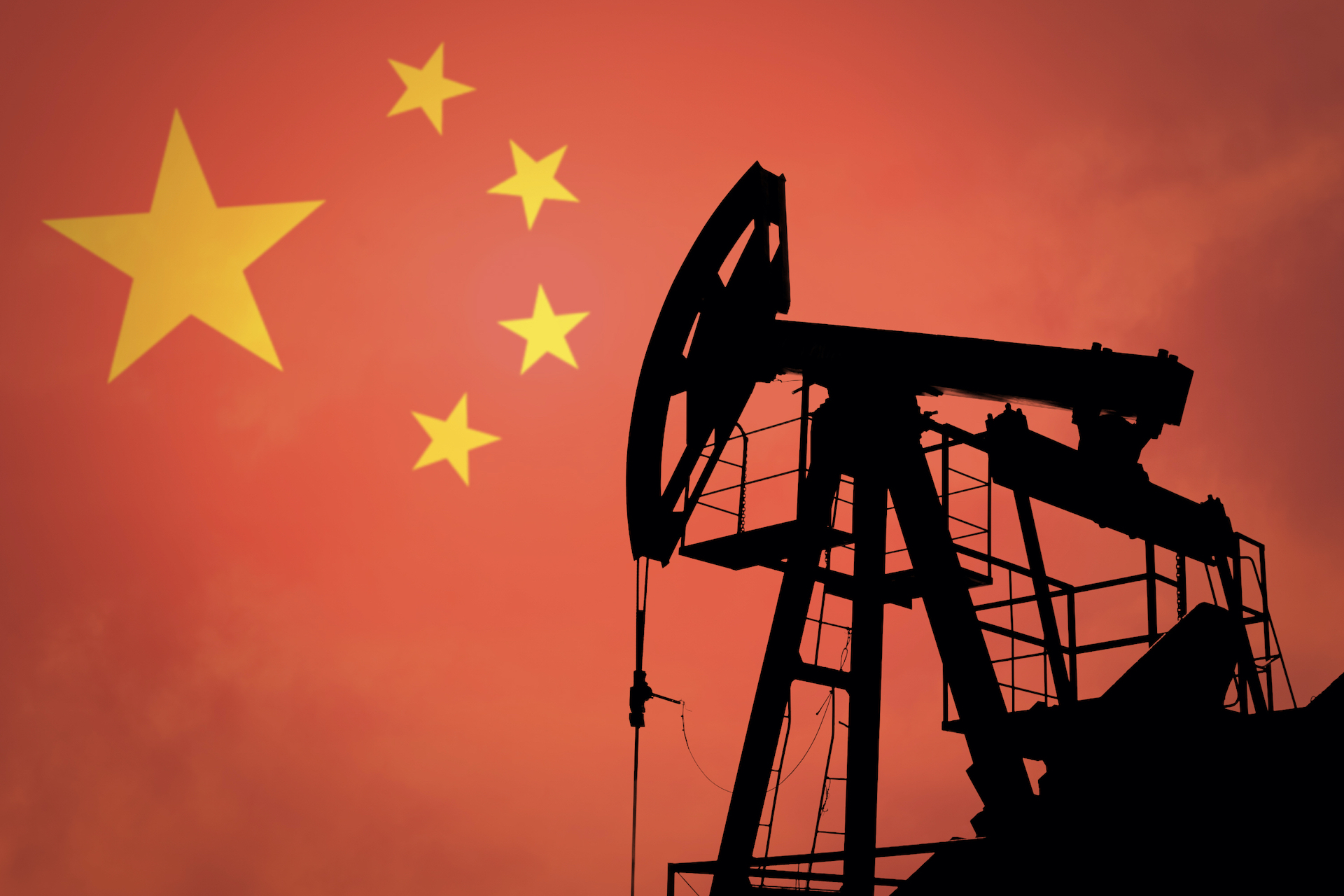 The first quarter of 2021 continued to bring new records for Chinese crude oil imports for the countries covered by Petro-Logistics' tracking. The average of the quarter stood at almost 8 mb/d, versus a Q4'20 average just above 7 mb/d, despite the fact that the first quarter of the year is normally lower due to the Chinese Lunar New Year.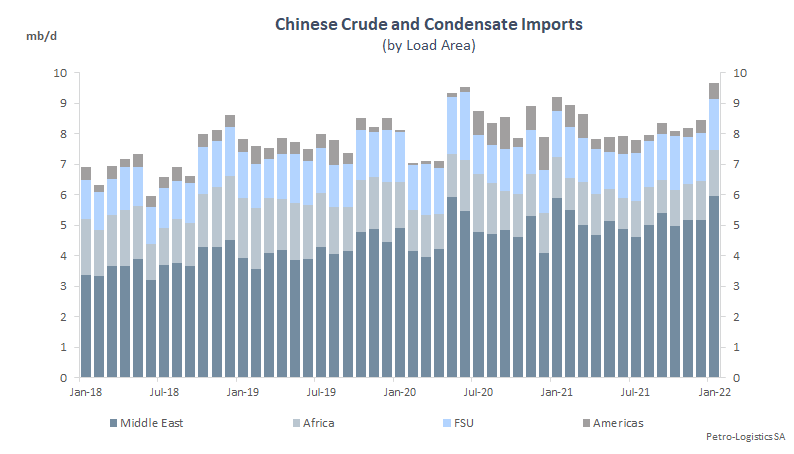 The surge so far in 2021 has supported some regions' imports. Despite curtailment limits imposed by OPEC+, Middle Eastern arrivals into China were very strong, helped among others by a pick-up in Iranian imports. Volumes arriving from the FSU also rebounded, whilst imports from Africa and the Americas tapered off.
Chinese imports from the Middle East have been strong this year, slightly above 5 mb/d in Q1'21, despite OPEC+ curtailments still limiting export volumes out of most of the region. In January, imports from Saudi Arabia approached 2 mb/d, the highest since May 2020, whilst arrivals from Iraq increased in February to an 8-month high, with a strong appetite for the new grade, Basrah Medium.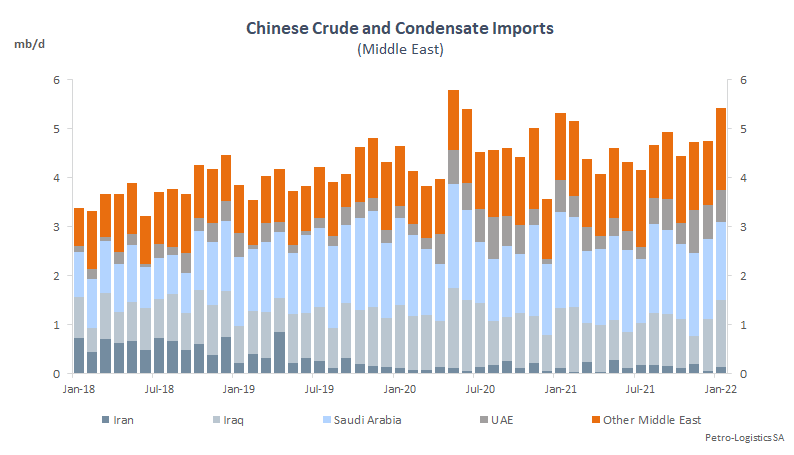 The other key trend in Q1'21 was a surge in the volume of Iranian barrels landing in China. Due to Iran's clandestine techniques, it is difficult to say with certainty how many barrels end up in China, since import data often mislabel Iranian cargoes as Oman or Malaysian Blend. Petro-Logistics assessed that, including Direct & STS shipments, it is likely that upwards of 650 kb/d of Iranian crude arrived at Chinese ports in Q1'21.
FSU seaborne exports to China also increased in the first quarter of 2021, close to 800 kb/d but below the record levels seen in Q2'20 of over 1 mb/d. In both January and February, Kazakh barrels landed in China for the first time since July 2020. REBCO/Urals cargoes from the Baltic and Black Sea arrived, with Baltic volumes having been shunned by Chinese refiners since August 2020.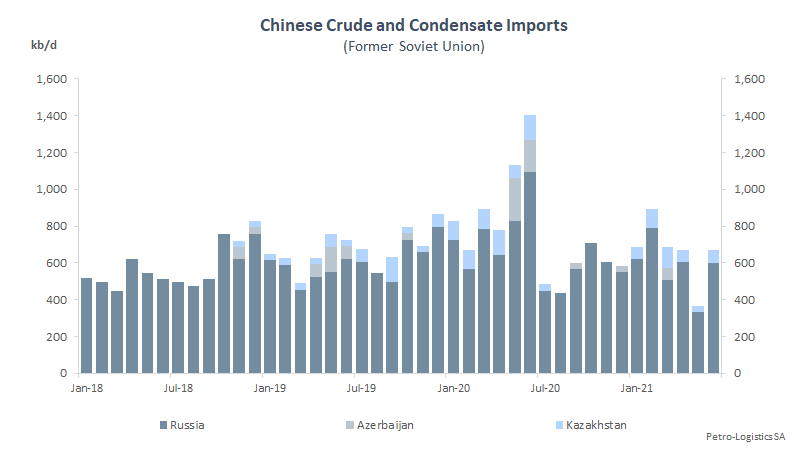 With the exception of October, H2'20 imports of barrels from the Americas were consistently strong. However, in Q1'21, this tapered off, dropping to just above 600 kb/d. Arrivals of US barrels have fallen from a high of almost 900 kb/d in December 2020 to about 400 kb/d in March 2021. However, Mexican barrels landed in February (and again in March) 2021 for the first time in two years as Chinese refiners looked for additional heavy barrels.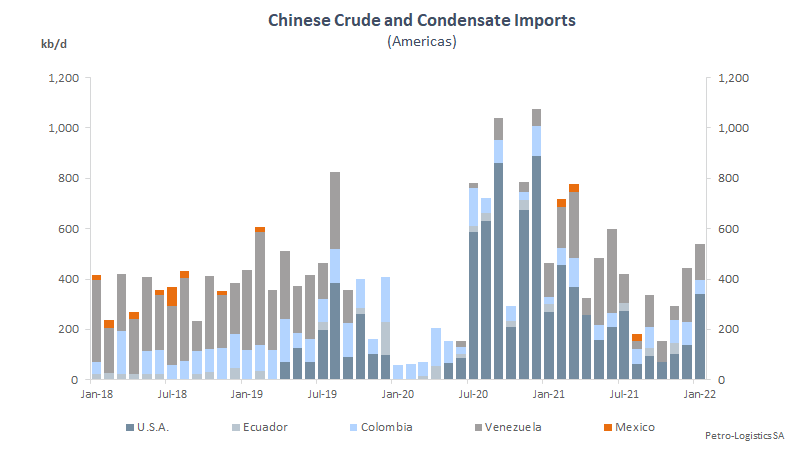 Imports from African countries were fairly stable in the first quarter of 2021, at an average of almost 1.5 mb/d. However, arrivals of Angolan and other heavy African crude dropped as Chinese refiners turned to alternative sellers such as Iran and Mexico. On the other hand, Libyan arrivals rose to a 14-month high at 175 kb/d in March 2021. When Libyan production and exports restarted in Q3'20, Chinese refiners stepped in fairly quickly, whilst other regional buyers in Europe continued to suffer from Covid-19 lockdowns that hampered their demand.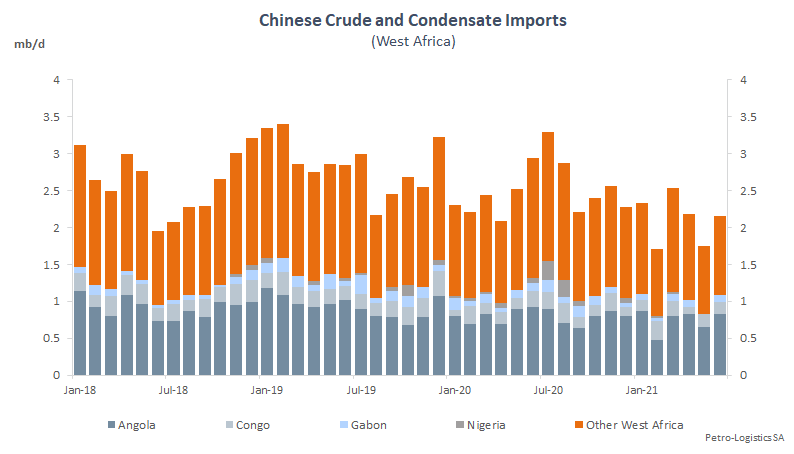 Congestion at Chinese ports was a significant issue in 2020 but fell to its lowest point by the end of February 2021, with fewer than 5 mbbls waiting by Chinese ports. However, since then, the amount of floating storage around Chinese ports had risen again, to 17 mbbls as of 12 April.
The surge in imports in Q1'21 coincides with a rebuilding of inventories after destocking in Q4'20, according to media reports, as well as an opportunistic move to import more Iranian barrels, both contributing to congestion at ports. Despite US sanctions potentially in place for a while to come, China is likely to continue buying heavily discounted Iranian barrels, especially if no clear retaliation from the US is forthcoming.
On the other hand, buying of heavy West African barrels could see a long-lasting effect of Chinese refiners shunning them in favour of cheaper Iranian barrels as those countries have become increasingly reliant on China.
Furthermore, the 2020 trend of Chinese refiners taking a significant amount of USGC barrels, probably more politically than economically motivated, has so far faded in 2021 but the return of Indian refiners has limited the negative impact for USGC barrels.