Back to all posts
Improved OPEC+ Compliance in June as the Group Finds a Path Forward
Read in 3 minutes
According to Petro-Logistics' data and its own assessment of compliance1, the group, comprised of 10 OPEC members and 9 non-OPEC partners (since the July 2020 withdrawal of Mexico), experienced stronger compliance in June at 93% thanks to improved OPEC discipline. Average compliance for the length of the agreement (May 2020-June 2021) currently stands at 84%.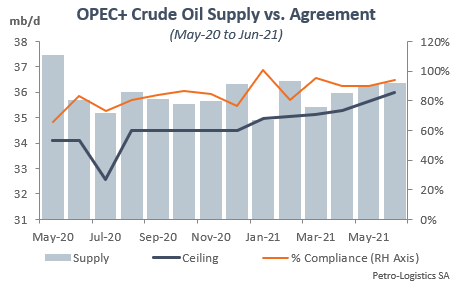 The improved compliance performance was helped in June by a 350 kb/d monthly increase in the production ceiling versus May cut levels, with a further 441 kb/d easing of cuts in July to arrive at a total reduction of 6.250 mb/d. Thereafter, an agreement was made for cuts to be eased by 400 kb/d each month until they reach 0 kb/d by the fourth quarter of 2022.
The 10 OPEC members (excluding Libya, Iran and Venezuela) that are part of the agreement supplied 187 kb/d less than the target of 22.362 mb/d, bringing the Organisation's monthly compliance to 105%. Compliance for OPEC-10 throughout the May 2020-June 2021 period stands at 91%.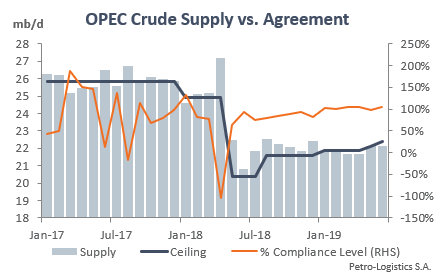 The best faring country in June was Angola, at 156%, followed by Saudi Arabia at 135% and Nigeria at 116%.
The early July meeting revealed division within the producer group, with the UAE asking for its baseline reference to change from October 2018 to April 2020 production levels, whilst opposing the extension of the agreement from April to December 2022. It is not the first time the UAE has hinted at its discontentment with the agreement. In late 2020, rumours spread of the UAE potentially leaving OPEC due to what it saw as an unfair allocation of cuts. And almost in appeasement, OPEC+ publicly praised the UAE for its strong compliance performance in November.
Petro-Logistics has regularly reviewed the UAE's supply levels and its derived compliance, having witnessed a substantial increase since mid-2019. A late 2018 basis for compliance shows poor performance and constant oversupply, with an average compliance level of 22% for the May-20 to Jun-21 period.
A change of basis closer to April 2020 levels and set by the Organisation at 3.500 (close to Petro-Logistics' assessment of 3.495 mb/d) would indeed dramatically improve the country's performance. Other participating countries will also benefit from higher baselines. The new baselines will provisionally come into effect in May 2022.
The 9 non-OPEC partners had stable compliance in June, at 73%. Most countries posted increases in their domestic supply, which were offset by the 73 kb/d easing in their cuts but was still 593 kb/d above their 13.619 mb/d ceiling. Average compliance for the 9 non-OPEC countries stands at 73% for the May 2020-June 2021 period.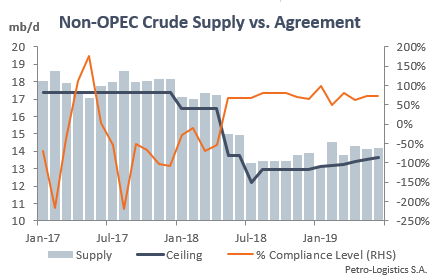 The best faring country in June was Azerbaijan at 117%, followed by Malaysia at 112% and Russia at 100%. The least compliant were Sudan and South Sudan, at -178% (i.e., their supply level is above their average 2018 supply basis).
Russia's compliance improved by 6% to a perfect 100% in June as supply fell by 53 kb/d, whilst the country had been allowed to increase its production by 39 kb/d compared to its May quota. Russian compliance currently stands at 93% since the start of the agreement in May 2021.
Following intense negotiations after the collapse of the July 2021 OPEC+ meeting, a path forward has been agreed for the group until the end of 2022, keeping on board all participants. The continuation of regular, monthly meetings will enable the group to adjust the cuts if demand weakens down the line.
---
OPEC and the JMMC assess compliance using production estimates from Secondary Sources. Secondary Source figures are the average of six sources, each using a different and similarly opaque methodology. Petro-Logistics does not consider these estimates to be reliable and therefore uses its own data to assess compliance. ↩︎