Back to all posts
Russian OPEC+ Compliance: Dividing The Deprivation
Read in 3 minutes
As a result of the most recent OPEC+ supply constraint agreement, Russia agreed to reduce crude production to 8.5 mb/d (condensate was excluded from OPEC+ compliance as of January 2020) after having run at around 10.6 mb/d this year through April. May saw this target nearly reached with production falling by 1.881 mb/d versus April to a total of 8.803 mb/d. But how were those volume reductions spread throughout the system?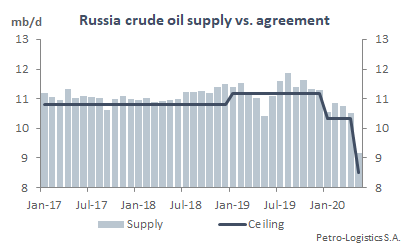 55% of the month-on-month production drop in May was allocated to reduced exports. The remainder of supply adjustments were spread between lower crude runs and a shift from inventory builds to draws.
The bulk of the May export reductions were seaborne, with some stark market choices made. Baltic exports fell the most month-on-month, but the overall level wasn't even a 12-month low. Black Sea exports fell the second most. But in absolute terms, they were the lowest exports for the route in at least 5 years and were less than half of March levels. Far Eastern exports barely moved at all and remained near all-time highs. Changes in pipeline exports weren't as large volumetrically, down by just 113 kb/d.
A few patterns emerge from these behaviours:
Maintaining Asian market share appears to have been Russia's top priority. Far Eastern waterborne exports were the only major final destination for crude – foreign or domestic – that stayed up near record levels.
While pipeline customers in Europe, China, and domestically all saw declines, they were not too drastic and should recover once demand does. These customers simply don't have many other options and sending volumes via pipeline is also cheaper for producers than to the ports.
This left waterborne exports into the Baltic and Black Sea as the swing market that Russia could temporarily sacrifice volumes to. From a short-term market perspective this made sense given Atlantic Basin demand from Covid-19 was hit more recently than Asia. And in the medium- to long-term Russian barrels into both Northwest Europe and the Med will retain their geographic competitive advantage versus further afield sour supplies.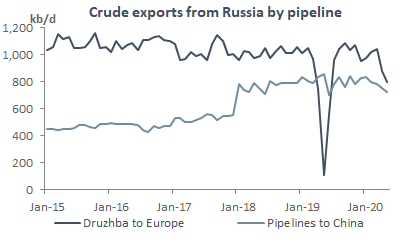 Crude production and exports can be kept low along these same patterns for the time being. This means the biggest gap in the crude puzzle is how Russian refineries will behave in the months ahead. May crude runs were the lowest since April 2013. Spring refinery maintenance would normally be ending now and runs ramping up to meet seasonally rising diesel and gasoline demand.
However, the supply-demand outlook looks challenging. Russian product demand data showed a -27% year-on-year drop in the three principal products (gasoline, gasoil, and fuel oil) in April and -21% in May.
Russia's western export-oriented refineries have a much higher distillate yield than domestic-focused refineries and now must sell into an Atlantic Basin market flooded with middle distillates. Even demand recovery is unlikely to do much to ease the distillate situation as gasoline's relatively better recovery could mean runs rise to meet its demand and over-produce middle distillates in the process.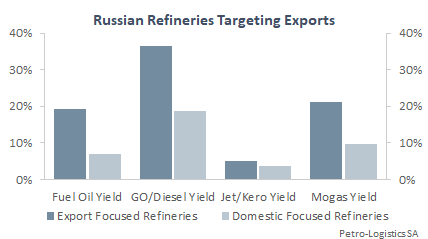 If runs do rise, further crude export cuts will be needed. Reducing flows to refiners along Druzhba struggling with poor product demand could be an option. If not, and if waterborne Far East market share is prioritized, then the choice could be left between almost completely drying up Black Sea volumes, sending Baltic volumes to record lows, or some mixture of the two.
For the moment, reduced Russian production and exports have helped balance the crude market not just in an aggregate global sense but to Russia's specific customers. The road ahead is paved with demand uncertainties that may prove trickier.