Back to all posts
How Covid-19 Affected US Oil Balance: Slow Response to Shrinking Demand
Read in 5 minutes
It was a global shock when the May WTI contract traded at negative levels on 20 April. In the context of a massive lockdown, oil demand in the US has dramatically shrunk, whilst domestic production and imports fail to catch up with the sharp drop in oil consumption, leaving the country with a significant oil overhang and a reluctance for traders to take physical delivery of the barrels as the contract ended.
Petro-Logistics has been monitoring seaborne movements both in and out of the lower 48 US states, especially around the US Gulf Coast. As the US has engaged in a debate over whether to stop importing foreign oil, especially from Saudi Arabia, it is important to assess the recent changes in trends for both US imports and exports.
Steady export levels since March despite rigs shutting down
On the domestic supply side, as expected, the combination of a significant fall in oil prices and a reduction in global oil demand has forced several US producers to stop operating rigs. Between mid-March and 24 April, 305 inland rigs have shut down in the US according to Baker Hugues. This represents 45% of the total rigs in operation in the lower 48 states since the high level of 683 rigs recorded during the week ending 13 March.
Despite decreased production, exports levels have kept steady because internal demand started to contract, leaving more barrels available for the global market. However, it has become more challenging for US producers and traders to sell their barrels as global demand has been cut dramatically by lockdown measures in many parts of the world.
Some buyers have taken advantage of the weak market, in particular China, which bought US barrels in April 2020 for the first time since November 2019. Overall, for April, China is expected to take 263 kb/d of USGC barrels. India has also increased its intake of US barrels by 50 kb/d to fill up its strategic reserve. However, other destinations have closed with exports to Europe dropping drastically. For instance, volumes to France in April are down by about 170 kb/d to a mere 27 kb/d, whilst Italy will only receive 112 kb/d, down by 120 kb/d.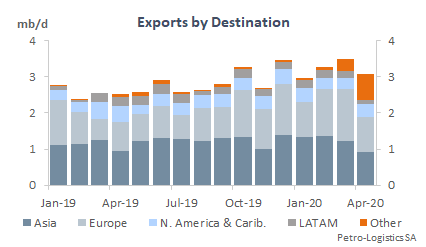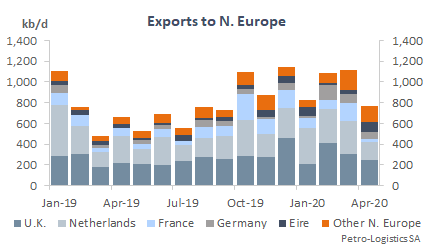 Note: April 2020 data up to 28 April 2020
With China and India more than covered and other markets unable to process the barrels as refineries cut runs, Petro-Logistics started to see cargoes anchoring longer than the normal two weeks window needed for STS operations in the US Gulf of Mexico.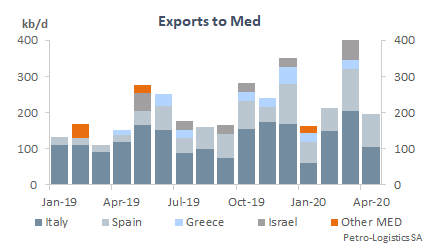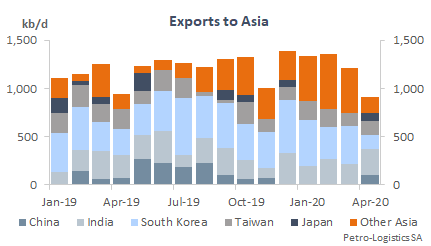 Whilst rigs continue to shut down, storage both inland and at sea fills up as US demand remains weak. More cargoes will linger in the US Gulf of Mexico, especially if the barrels on them have been hedged, ensuring that the buyer is not losing money on the paper side of the transaction. As long as the contango covers the cost of storage and demand remains weak globally, such floating barrels will occur in the area.
Imports rebounded in April on OPEC supply increase
On the imports side, the US had managed to become a net exporter by late 2019, with imports continuously falling since the US shale production has taken off. In the first two months of 2020, imports remained on par with the last quarter of 2019, averaging 1.957 mb/d for the countries covered by Petro-Logistics' tracking (OPEC, OPEC+ partners, Colombia, Ecuador, other WAF). However, Saudi Arabian imports were at their lowest as the Kingdom applied the latest curtailment agreement decided by OPEC+ in December 2019. In February 2020, only 216 kb/d of Saudi barrels entered the US, the smallest volume ever seen.
However, by March, imports dropped to their lowest levels on record, at 1.734 mb/d. Iraqi barrels were shunned by American refiners, down month-on-month by 181 kb/d to 191 kb/d, the minimum in 15 months. Saudi imports rebounded from their February lows to reach 368 kb/d. Short-haul barrels from Mexico and Latin America saw a rise in barrels exported to the US. At 719 kb/d, Mexican barrels reached their highest volumes since September 2018.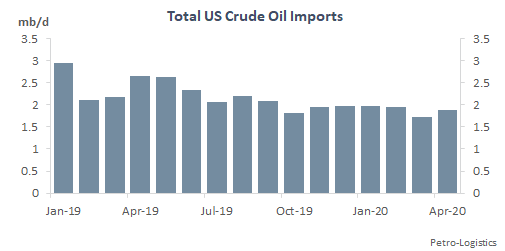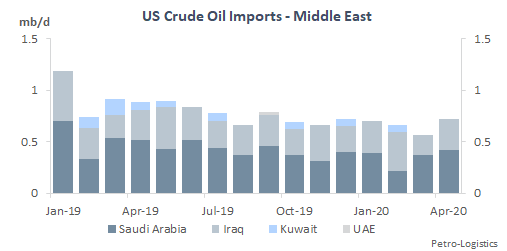 In April 2020, imports picked up as OPEC started to increase supply by late March. Petro-Logistics expects imports to average 1.873 mb/d for the first 28 days of the month, a total that could increase as destinations are finalized, especially for short-haul barrels. The main rise was in Saudi imports, set to increase by 73 kb/d to 420 kb/d, the largest volume since September 2019. Iraqi imports also recovered by 106 kb/d to 297 kb/d. However, Mexican barrels were less attractive to US refiners following an aggressive pricing campaign by Middle Eastern producers. Total volume from Mexico to the US is estimated to have dropped by almost 200 kb/d to 520 kb/d, back to levels last seen in October 2019.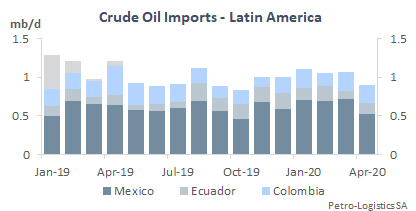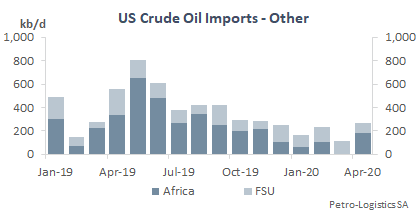 Further run cuts will probably bring May exports down drastically, as cargoes are hovering in ports, unable to discharge because of full tanks at refineries. However, with a rise in supply in April, Saudi imported barrels to the US are estimated to reach a massive 1.113 mb/d in May, the largest since October 2018. Iraqi barrels, on the other hand, should fall to a minimal volume of 160 kb/d as the country decided to not increase supply in April.
The recent push by Senators for a stop of foreign and in particular Saudi imports is highly politically motivated and will not necessarily achieve the intended purpose of helping domestic producers. However, it might ease the burden of US refiners locked in term contracts with Saudi Aramco as they currently lack demand for barrels. In the long run, though, it could have long-lasting damaging effects on the relationship between the Kingdom and the US.