back to all posts
Chinese Crude Oil Imports - Limited Impact of Covid-19
Read in 5 minutes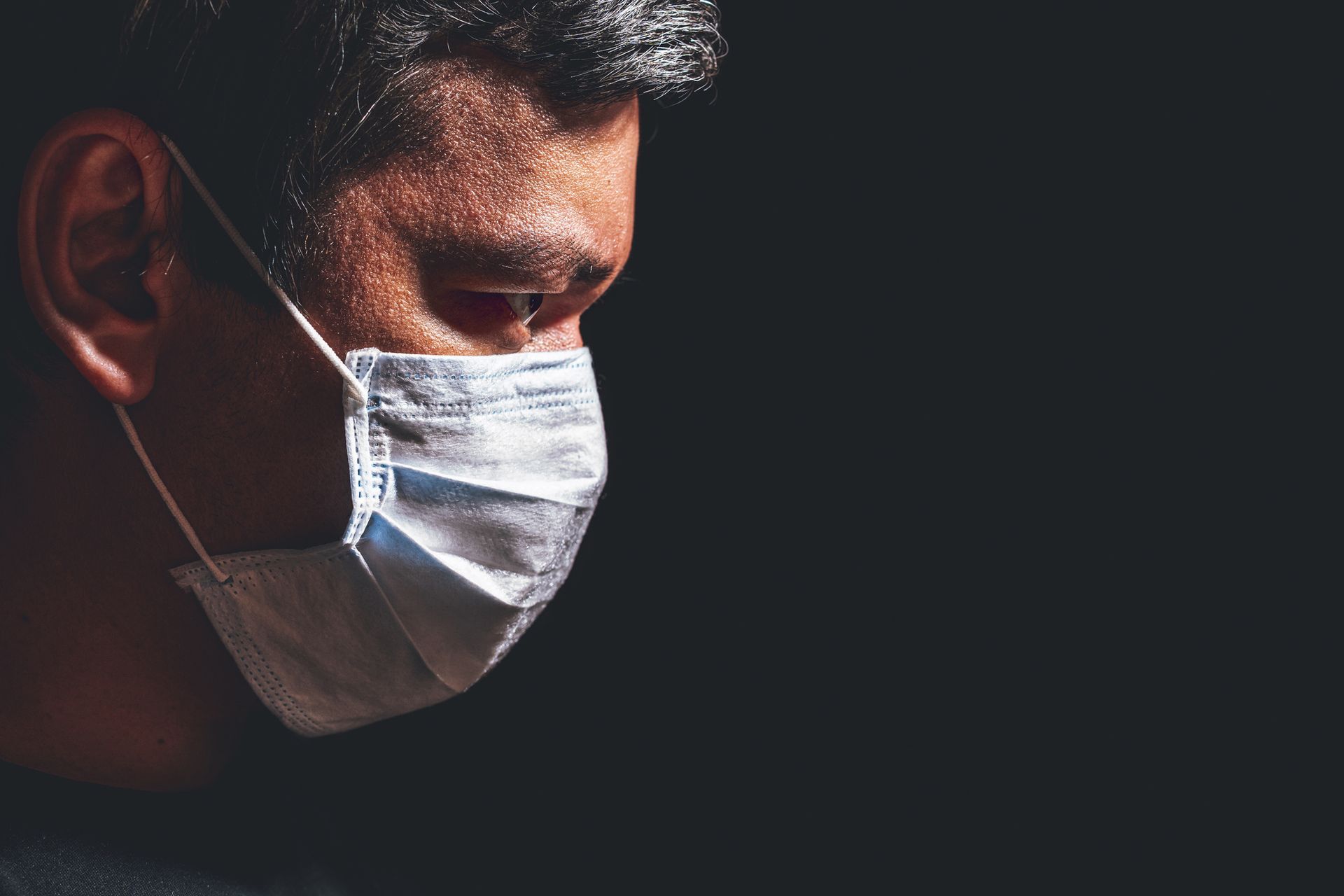 According to Petro-Logistics' tracking of OPEC, OPEC+ and USA seaborne cargoes, Chinese oil imports have seen a limited fall since the beginning of 2020 and the rise of the Covid-19 pandemic. The initial drop in imports was more consistent with Chinese New Year buying patterns than an effect of confinement measures. A rebound followed and oil imports have recently retraced to average levels. However, China will take advantage of the low-price environment to buy vast quantities of oil for storage and for the restart of its refinery system. Those volumes should start to be loaded imminently.
Petro-Logistics has used its extensive tracking of OPEC and OPEC+ countries as well as US Gulf Coast exports to observe Chinese oil imports. Chinese oil imports dipped in the week ending 2 February, coinciding with the planned Chinese New Year holiday period – which was cancelled last minute as lockdown measures were implemented in Wuhan and gradually around the country. However, at about 5.777 mb/d, landing barrels were within ranges of previous Chinese New Year holidays' volumes. Those barrels would have been booked in November or early December, depending on the origin, and loaded in the second half of December to the first half of January, when the impact of the virus was still limited for Chinese refineries.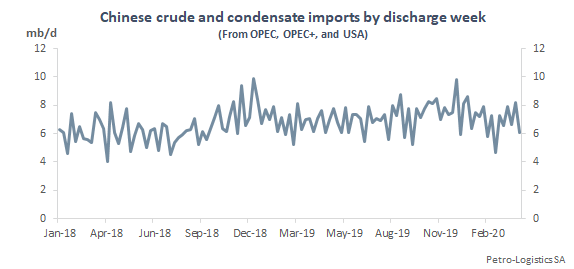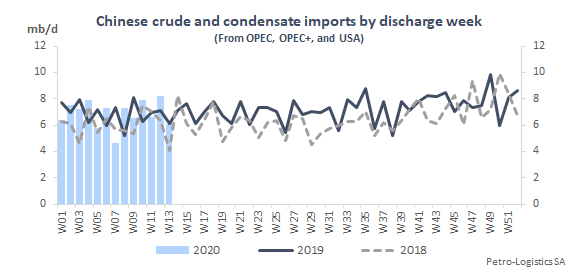 Lowest import during Chinese Lunar New Year holiday
Chinese oil imports reached their lowest level during the week ending 16 February, falling to 4.635 mb/d, the smallest amount since July 2018 – with demand back then having been affected by limited intake from teapot refiners and the commercial trade war with the US.
Following this dip in the week ending 16 February, Chinese oil intake has rebounded, consistently staying at or above 6.5 mb/d; a fairly standard level for Chinese imports, albeit on the low side of the normal range. For instance, during the week ending 1 March, oil imports at key Chinese ports barely touched 6.5 mb/d, a drop of about 1.6 mb/d versus the same week in 2019, but almost 1.2 mb/d above the same week in 2018 when Chinese demand was weak. Most barrels that arrived that week were long-haul (booked prior to the rise of the pandemic) and/or term contract barrels (with Chinese refiners contractually obligated to take them).
For 1-29 March, crude oil arrivals averaged 7.198 mb/d, up by roughly 750 kb/d compared to February. With economic activity restarting, Chinese refinery rates increased in March following a slump in February. Teapot refinery activity rose in Shandong by close to 35% versus February. Private company Hengli Petrochemical announced that it returned to 100% throughput in March, up 10% from February.
In terms of origin of the Chinese imported barrels, Petro-Logistics' tracking indicates that some countries have been more impacted by the temporary shrinking in Chinese oil imports. As expected, term sellers from the Middle East and Russia experienced stability in their exports to China, whilst volumes from spot selling countries were reduced.
Term suppliers faced limited impact
Volumes out of some Middle Eastern producers remained similar in the first quarter of 2020 to the averages seen in the last quarter of 2019, with Iraq imports slightly up (1.200 mb/d for 1Q20 versus 1.103 mb/d in 1Q19), Kuwait almost stable (493 kb/d vs. 466 kb/d), Saudi Arabia marginally lower (1.586 mb/d vs. 1.842 mb/d) and the UAE smaller (271 kb/d vs. 319 kb/d). Chinese refiners are locked into term contracts with those countries and would be liable if they did not take their allocated volumes. Grades from those countries are also often the base slate of their refineries and are first booked based on the trading window of those countries. Seaborne volumes out of Russia were also stable to slightly higher, at 754 kb/d for 1Q20, up 39 kb/d compared to 4Q19.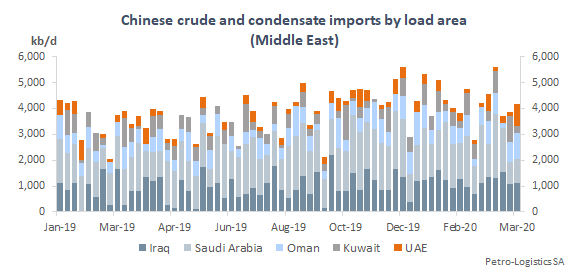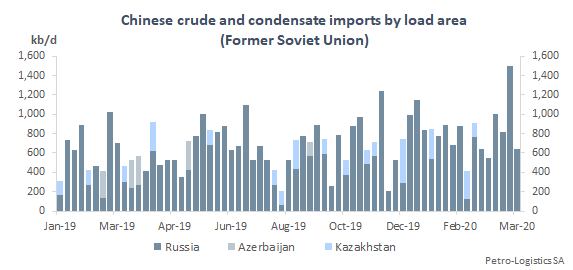 Spot buying more impacted by pandemic
On the other hand, spot buying was tamer, with imports down for 1Q20 compared to the 4Q19 from West Africa (Angola, Congo, Gabon, Ghana, Nigeria; from 1.665 mb/d in 4Q19 to 1.330 mb/d in 1Q20) and from Latin America (Colombia, Ecuador; from 152 kb/d in 4Q19 to 86 kb/d in 1Q20). Furthermore, imports from Libya were down as the country started to experience domestic turmoil.
It is worth noting that no barrels have sailed from the USA to China in 2020, whilst Venezuelan barrels have fallen from 227 kb/d in 4Q19 to 160 kb/d in 1Q20 and Iranian imports have dropped from 268 kb/d in 4Q19 to 217 kb/d in 1Q20. Iranian imports have been in decline since the start of the year.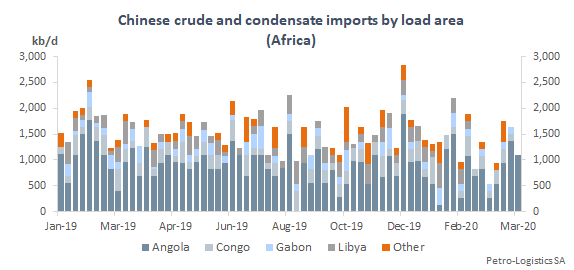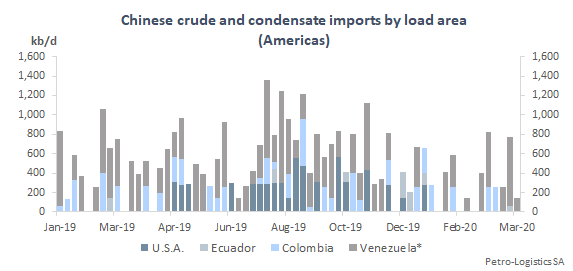 *Figures for Venezuela include averages for cargoes discharged via ship-to-ship activity at Singapore/Malaysia, the majority of which sail on to Chinese teapot refineries and may be slightly higher than actual volumes discharged at Chinese ports. Discharge weeks for cargoes discharged via ship-to-ship activity have been estimated.
For April and beyond, Chinese refiners taking advantage of low oil prices
For the coming months, China and its refiners, both major and teapots, are taking advantage of the low oil price environment to fill up their tanks and resort to using floating storage once inland tanks are full. Some refiners that hold term contracts with Middle Eastern suppliers have asked for higher April allocations. All Chinese buyers have asked for May barrels. There are talks that teapot refineries will be given higher retroactive quota levels to enable them to immediately profit from the current market conditions.
Petro-Logistics will continue to monitor arrivals of cargoes at key Chinese ports and inform its clients of relevant information regarding volumes and origins of landed barrels.