Back to all posts
US Imports: More WAF & FSU at the Expense of Middle Eastern Barrels
Read in 3 minutes
At 1.671 mb/d for the countries covered by Petro-Logistics, which include the 25 countries in OPEC+, West Africa, Colombia and Ecuador, the first seven months of 2021 have seen fairly stable crude imports into the USA, with only a slight 99 kb/d drop compared to the full year of 2020. However, there has been a modest shift in the origins of the imports, with Middle Eastern crudes declining while African and FSU grades increased.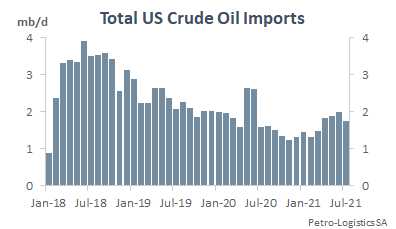 US imports from OPEC+ countries have been in decline for several years as domestic production rose to record levels. Covid-19 related lockdowns in 2020 gave further momentum to the trend as demand was severely curtailed. This year, thanks to a partial demand recovery, the fall in imports has slowed down, with only a 99 kb/d reduction for the first 7 months of 2021 compared to 2020.
Key Middle Eastern exports to the USA have been falling for years, including in 2020. April 2020 did see a surge in Saudi arrivals (as well as other Middle Eastern barrels), but this was later offset by the OPEC+ curtailment strategy and more limited demand.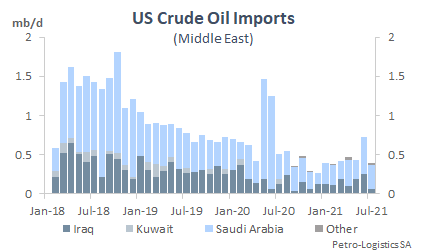 In 2021, the volume of imports from the Middle East has continued to shrink, falling to 466 kb/d (-173 kb/d y/y). Saudi flows to the US in particular have decreased, dropping from 808 kb/d in 2018 to 448 kb/d in 2020, and almost 300 kb/d for the first 7 months of 2021. This includes supply to the 635 kb/d Aramco-owned Motiva Port Arthur refinery. Other Middle Eastern producers are seeing similar, albeit less drastic, declines
On the other hand, higher volumes from the Former Soviet Union (FSU) and Africa have landed in the US in 2021, whilst arrivals of Central and Latin American crude cargoes are only slightly down year-on-year.
The most significant change so far in 2021 is a surge from the FSU, especially Russia. Volumes have risen from 70 kb/d in 2020 to 165 kb/d for the first 7 months of 2021. Cargoes are coming from the three key seaborne loading areas in the FSU (Baltic Sea, Black Sea and Kozmino), but the most significant increase is for cargoes coming from Kozmino, in the Far East. More limited Chinese demand in recent months has opened the door to US refiners.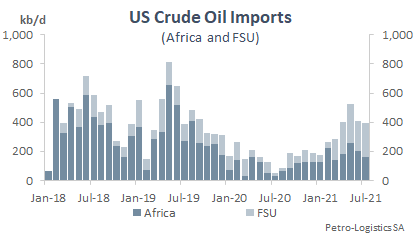 For Africa, whilst 2020 saw minimal imports on the back of US refiners cutting spot barrels, the volume landing in the US has recovered, from 94 kb/d in 2020 to 185 kb/d so far in 2021. The main beneficiaries of this year's increased US demand are Nigeria, and Libya as the country's oil production restarted in September 2020 following 9 months of significant disruptions.
Central and Latin American producers covered by Petro-Logistics are down a bit in 2021 at 856 kb/d, representing a decrease of 112 kb/d y/y but still 51% of total US imports. Venezuelan imports are at zero for a second year, whilst Mexican grades have nearly stabilised, at 605 kb/d so far in 2021 (-55 kb/d y/y).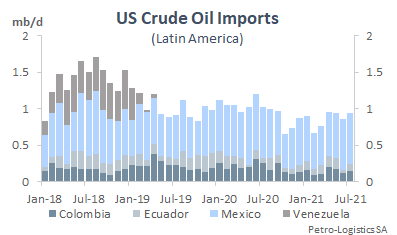 Overall, US imports are showing resilience in 2021 despite the ongoing uncertain demand outlook, though refiners are adjusting their slates. Looking ahead, despite the US President's recent call for more OPEC+ supply, early datapoints for the coming months indicate a potential decline in imports as peak summer demand fades.