back to all posts
US Balance: High Middle Eastern Imports Versus Record Exports to China in May
Read in 7 minutes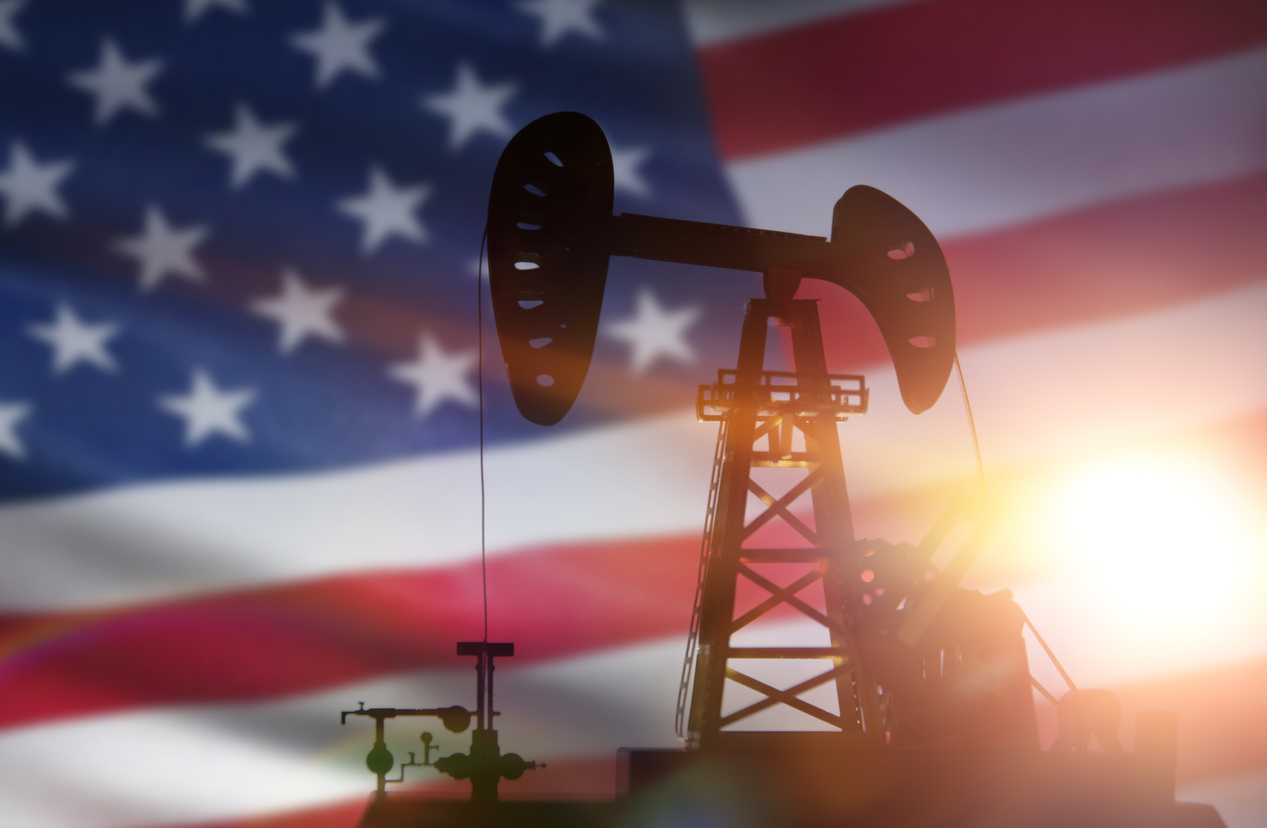 Since March, the US has been facing the Covid-19 pandemic, with states in more or less strict lockdown. Those measures have strongly affected US oil demand, whilst the collapse of oil prices has put many rigs offline, especially in the Permian Basin.
Petro-Logistics has been monitoring seaborne movements both in and out of the lower 48 US states, especially around the US Gulf Coast. Lower light sweets production and a steep contango structure have kept more barrels domestically whilst imports were high despite lower runs as refiners took advantage of ample supply of Middle Eastern and Mexican sour barrels.
Record volume of US barrels heading to China as the rest of the market remains more subdued
On the domestic supply side, 2 mb/d of US oil production had disappeared by early June 2020 from a peak of 13.1 mb/d in late February. Domestic refinery runs on the other hand fell by over 3 mb/d. According to the EIA, in Q1 2020 they averaged 16.062 mb/d, whilst in Q2 2020 they have so far struggled to reach 13 mb/d.
Therefore, all things equal, the US had the potential to export 1.5 mb/d more of US-produced barrels as domestic demand dropped more than its production. However, the oil complex has seen unprecedented times since March with contradicting factors colliding. US exports have actually decreased, falling from a record export level of 4.350 mb/d in the week ending 26 January to just 1.622 mb/d for the week ending 7 June and back at 2.173 mb/d for the week ending 14 June.
The sharp drop in exports in early June is in part attributable to the impact of the tropical storm Cristobal. By 10 June, about 24% of offshore production was shut, which represents 430 kb/d of mostly Mars and LLS. The recovery in exports for the week ending 14 June is a sign of recovery for oil facilities affected by the storm.
Some buyers have taken advantage of weak prices, in particular in Asia, which bought a record 1.479 mb/d of US grades in May. Freight rates for VLCCs from the USGC to Asia reached a massive $20M per journey in late March as buyers rushed to secure vessels to keep barrels in floating storage. However, an influx of Middle Eastern cargoes in April and May made VLCCs more available and thus cheaper in the USGC, with rates dropping to standard levels of $7m per journey by early May.
China, which bought US barrels in April 2020 for the first time since November 2019, purchased record volumes of US grades in May, with a total intake close to 900 kb/d, mostly of light sweet barrels. According to the US-China trade deal signed in December 2019, Chinese refiners should buy more than the 2017 baseline volume of US crude oil, which is estimated around 200 kb/d. By end of May, China had taken only an average of 170 kb/d for 2020, driven mostly by the large May intake.
However, other Asian buyers have been more timid, with intake by South Korea falling from 405 kb/d in Q1 2020 to below 33 kb/d in May. Strict lockdown measures have cut runs in the country, leading to an accumulation of barrels that needed to be run through by April and May. The issue was compounded by refinery maintenance during the same period that further limited the demand for new barrels. At the same time, cheaper regional alternatives pushed Korean buyers away from US barrels in May.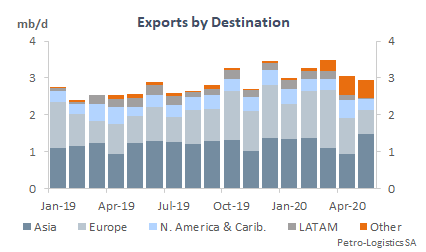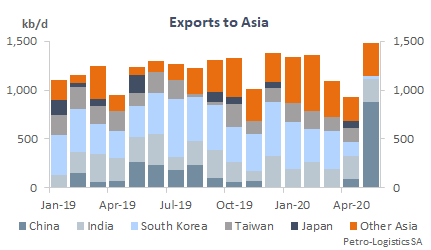 In Europe and the Mediterranean basin, the market remains subdue, with only 714 kb/d of US crudes heading to the region in May, versus a Q1 2020 average of 1.325 mb/d. It was the lowest volume going to Europe since March 2019. All countries have reduced their intake of US barrels as lower runs created an accumulation of barrels at refineries' gates. OPEC producers also pushed for more and cheaper barrels to be taken in April as they ramped up supply, leaving US barrels without buyers in Europe and the Mediterranean basin.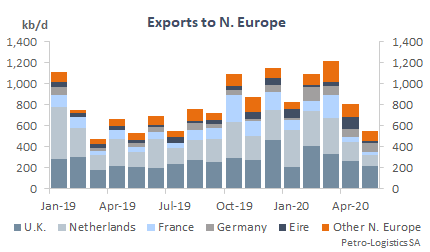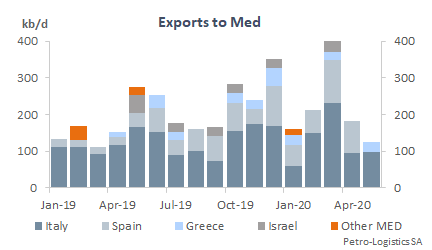 Since April, demand for US grades in European and other international markets has dropped whilst cuts in US refinery runs further limited outlets for US barrels, creating an opportunity for floating storage, with the market structure further enabling a profitable hedge overtime. According to Petro-Logistics, US barrels represent the largest volume currently kept in floating storage, with about 22 mbbls around the world as of 16 June, from a peak of 26 mbbls in late May.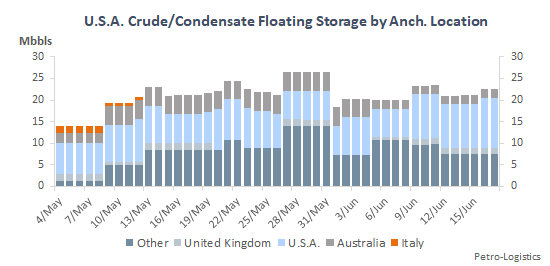 Whilst the arbitrage for US barrels to Europe remains poor, Asia offers some hope for US barrels due to falling freight rates and renewed demand thanks to tenders for US grades to Taiwan and India. However, rising tensions between the US and China and attractive regional grades could impair the attractiveness of US barrels. A restart of US rigs as prices hover around $40/bbl could overflow the market as demand has not yet fully recovered.
Imports rebounded in May on OPEC supply increase
On the imports side, April 2020 saw the lowest levels of crude arrivals from OPEC+, at 1.586 mb/d (-208 kb/d m/m) on the back of minimal Middle Eastern and American intake. However, at 2.703 mb/d, imports in May reached their highest levels in 18 months, because of a surge in Saudi and Mexican cargoes.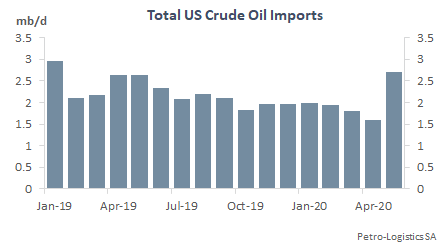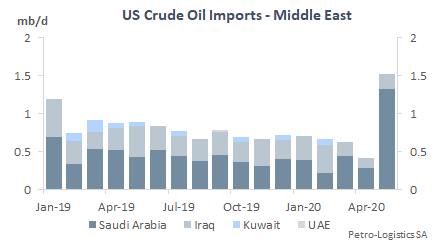 Saudi Arabia decided to unilaterally increase its supply levels in April. With Asian markets saturated and demand running low because of the lockdown measures, Saudi Arabia managed to maximise its shipments to the US, with total landing barrels of 1.323 mb/d, up by 1.042 mb/d month-on-month. The last of the April-loaded Saudi barrels landed in the US in the week ending 14 June, with the June average estimated at 1.14 mb/d.
Going forward, Saudi arrivals should dramatically drop as the latest OPEC+ curtailment agreement was enforced on 1 May. According to Petro-Logistics' data, only 658 kb/d of May-loaded Saudi barrels are seen heading to the US, with arrivals between mid-June and end of July. In the first half of June, no barrel shipped from Saudi Arabia has been destined for the US. In July, higher Saudi OSPs will further deter US buyers from sourcing barrels from the Kingdom.
The larger intake of Saudi barrels displaced Iraqi barrels, whose volume into the US dropped to 133 kb/d in April and 196 kb/d in May versus an average of 300 kb/d in Q1 2020. No Iraqi barrel was loaded in May for US refiners and only 67 kb/d of Iraqi barrels shipped in the first half of June were seen heading to the US, which should result in very small volume of Iraqi cargoes in the US in June and July.
Mexican barrels continued to arrive at a decent pace despite the increased level of competing Saudi barrels. In May, a total of 819 kb/d of Mexican grades landed in the US, the highest volume since July 2018. For June, Mexican loadings dropped in the first half of the month because of tropical storm Cristobal closing Mexican ports in the Gulf of Mexico. South Korean intake of Mexican barrels is seen rising for May-loaded barrels, as refineries there return to higher run levels following the easing of lockdown measures and the end of refinery maintenance, whilst US refiners are seen taking only 483 kb/d so far in June.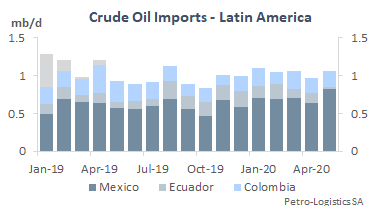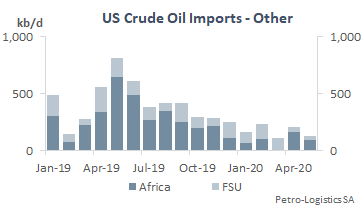 As of 16 June, about 12 mbbls of imported crudes are anchored off the US shores, as US refiners struggle to free inland storage space in a clear sign of an oversupplied import market.
Going forward, the volume of foreign crude arriving into the US should drop once the flurry of Saudi cargoes has arrived, until US runs pick up and anchored cargoes have been able to discharge. A rise in US production as oil prices hover above $40/bbl would further limit the space for imported barrels.