Back to all posts
OPEC supply nudges higher in April
Read in 1 minutes
After four months of severe decline, both voluntary and involuntary, OPEC supply is nudging higher in April. Structurally improved exports from Nigeria and Iraq are driving the monthly recovery in OPEC supply, while lower volumes from Iran and Saudi Arabia are offsetting increases elsewhere in the group. It is expected that Saudi Arabia will fill the void left by missing Iranian barrels; however, the Kingdom is unlikely to repeat previous mistakes (as witnessed in Q4 2018) of supplying oil to the market in anticipation of the impact of US sanctions.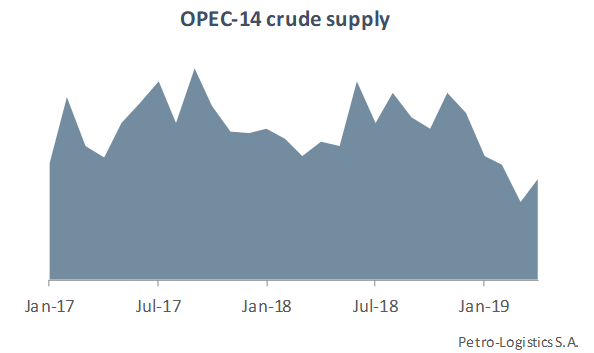 Note: Petro-Logistics released its expectation for OPEC supply in April on the 18th of the month, some eleven days before publication of this note. This blog post shares a general indication of OPEC supply for non-subscribers to view.
Please contact Petro-Logistics Sales for a sample or a complimentary trial to the OPEC Production Monitor and associated data packages.