back to all posts
Focus on OPEC Middle Eastern Compliance
Read in 3 minutes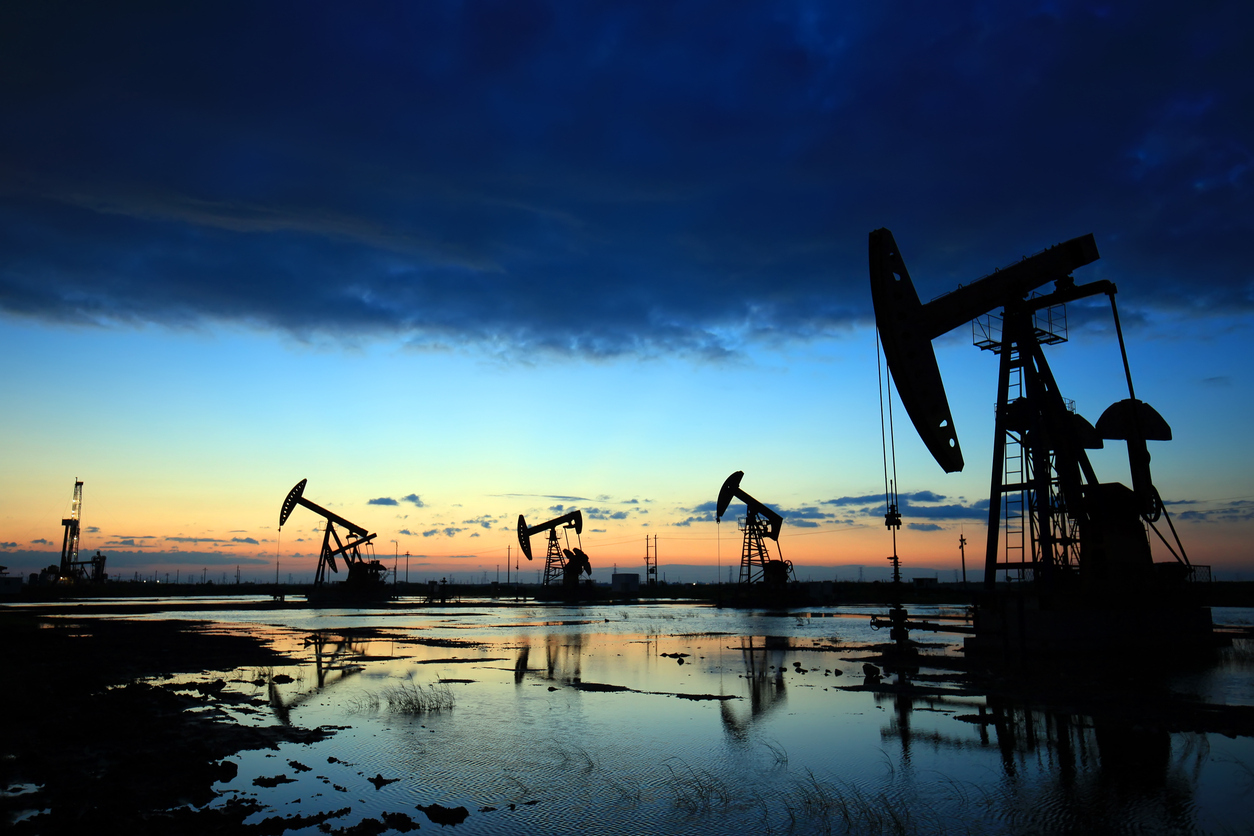 The OPEC+ meeting on 6 June decided to extend the May-June 9.7 mb/d cuts by one month. It also foresees that any countries who are unable to reach 100% compliance in May and June will compensate with additional cuts in the period July-September.
Petro-Logistics calculates that OPEC achieved a compliance level of roughly 60% in May. Historically, OPEC has relied on a few key countries to carry the weight for the whole Organisation's curtailment. The decision of the 11th OPEC+ meeting is meant to spread the burden amongst all member countries.
Looking at participating Middle Eastern OPEC members (Saudi Arabia, UAE, Kuwait and Iraq), compliance has traditionally been some of the best in the Organisation.
As the largest producer in the Organisation, Saudi Arabia has been the proponent of many curtailment agreements. Since January 2017, when the latest series of compliance agreements started, Saudi Arabia's average compliance level has been 110%. In April 2020, Saudi Arabia's compliance was -216% as it decided to drastically increase its supply following failed negotiations with Russia in March for higher cuts. In May 2020, Saudi Arabia reached a compliance level of 77%. It has taken the Kingdom time to fully readjust its supply levels following the surge in April.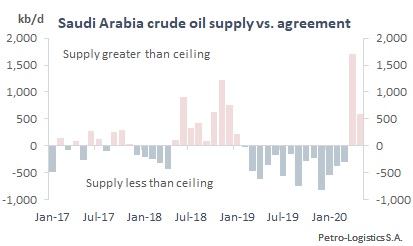 The UAE traditionally had a decent compliance rate, with an average of 88% between January 2017 and October 2018. However, since then, with a significant rise in supply, as output was consistently above 3 mb/d, touching highs of 3.9 mb/d in April 2020, the compliance rate for the UAE dropped to -287%. In May 2020, the UAE achieved a supply level of 2.9 mb/d, bringing compliance up to 30%. It was the first time the country's output had dropped below 3 mb/d since May 2018.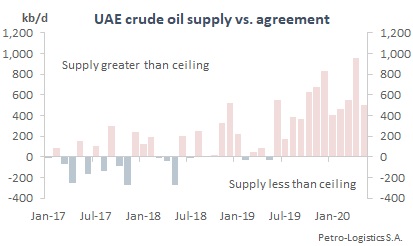 Kuwait has the highest compliance rate amongst participating Middle Eastern OPEC members, at 116% since January 2017 with a peak of 489% in November 2019. The decision to reinstate curtailment levels in early April made it hard for many members, including Kuwait, to fully adjust their May supply levels as volumes had often already been allocated to customers by the time the new agreement was adopted. This means that Kuwait's compliance level stood at 42% in May, albeit with supply levels at the lowest since November 2018. Jointly with Saudi Arabia and to further reduce supply volumes, Kuwait has decided to stop production in the Neutral Zone, which restarted in March 2020 and whose output is shared 50%-50% between the two countries.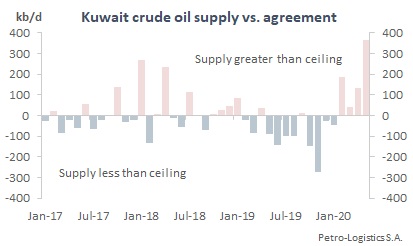 Iraq has often been one of the least compliant countries amongst Middle Eastern OPEC members, with an average compliance level of 50% since January 2017. Arguing that the war had ravaged its oil infrastructure, Iraq has often contested either the decision to be included in a curtailment agreement or the supply reference level for the calculation of its cuts. In April 2020, though, as others in the group pushed their supply higher, Iraq was one of the strongest voices in favour of reinstating a curtailment agreement. Since the latest agreement came into force on 1 May 2020, Iraq has called for further cuts to be applied, whilst it achieved a compliance level of 37% but with the lowest supply level since March 2018.